ACE TECH Participation – Bengaluru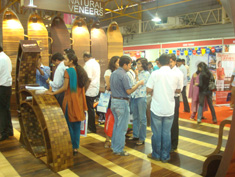 Bengaluru has always been a competitive market for veneer industry due to the number of players present in the market out there. And inspite of that fact we were able to attract a large number of architects and interior designers, and this was possible all because of our excellent veneering solutions and the variety of the decorative veneers and solid wood mosaics we offered out there. ACE TECH exhibition being one of the most renowned exhibitions of all time helped us attract fresh as well as many established interior designers and architects. Bengaluru ACE TECH 2011 resulted into one of the most successful exhibitions for our company which opened up new dimensions for not only the decorative veneers but also the veneering solutions for furniture industry.
This was how we tried to keep a personal touch with our valuable consumers through such corporate shows, and we would try and continue to keep up the same relations with all our valuable consumer family.