Encouraging the 'Best' in Business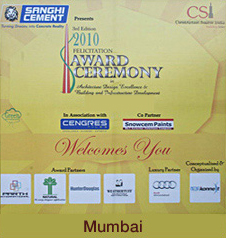 'Natural Veneers' has been the leading brand of veneers in Mumbai for the last 3 years. As the brand enjoys great popularity amongst the architecture & design community, Turakhia Overseas Pvt. Ltd. has always appreciated the best of the works done in the industry. In this endeavor company has found an able partner in 'Construction Source India (CSI)' to felicitate the architects and builders across Mumbai & Maharashtra for architecture/ design excellence and building infrastructure development.
NATURAL VENEERS was category award sponsorer at the award ceremony for 'Best Architect Firm of the Year' and 'Best Emerging Interior/ Architecture Firm Award.'
"I believe this is a good platform for the design industry to come together. These events give you the opportunity to see the best work done currently in the industry. It serves well for everyone who wants to benchmark them against the very best." said Chintan Turakhia, Director Turakhia Overseas Pvt. Ltd. at the event.
We believe the Natural Veneers team is putting in enormous efforts to position their brand to the right target audience via these events. We will see how this marketing mix pans out in the near future. canadian pharmacy Erythromycin