First Bapcok Press Dryer Installed in Indian Company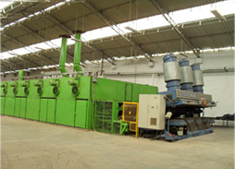 At 'Natural Veneers' creativity and innovation is matched equally with technical expertise. Natural Veneers is the first company in India to have the press drying technology for veneers and that too with the best in business- BABCOCK.
The company believes in delivering a technically correct product and that too consistently. This would invariably mean investing heavily in high end European technology.
"We believe in moving forward correctly. The technology is there for the world to see. If you want to deliver only the best quality, you have to invest in equipment. We are positive that this would lead to better product quality in the long run." said Hemal Turakhia, Director, Production.
We hope to see more and more Indian veneer companies moving in the right direction with the leader investing first up!!