GFTN- India (The Global Forest and Trade Network) Certification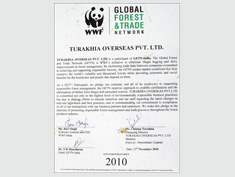 'Natural Veneers' once again leads the way in moving forward with responsible forestry by becoming the first veneer company in India to be a participant of GFTN- India (The Global Forest and Trade Network). GFTN is a WWF's initiative to eliminate illegal logging and drive improvements in forest management.
"It is not just about a marketing need as we do not export a lot of material. We sell our material majorly in the domestic Indian market where the awareness for responsible forestry is limited. Thus this would not be perceived as major advantage by the users. We do it because our company principally believes in being responsible to the environment. Our organization culture of responsible forestry is amply demonstrated by the new products (solid wood mosaics & edge bandings) that we develop. We always try to use all the wood that is available to create useful products" said Amish Turakhia, Director who was present at the event organized by GFTN- India here in Delhi to collect the certificate.
As the construction and building industry move towards more and more green projects these kind of initiatives would be appreciated by the consuming market. For the consuming market and the society at large this kind of developments are good to see in a business world that is largely used to working with only bottom lines!!!