India Wood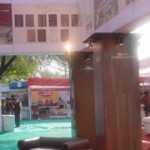 As we move away from glitz and glamour of Fiero Series in Jaipur, its time for some technical stuff for industrial users!! The Natural Team is in Bangalore for Indiawood 2010 show.
India Wood seems to be the perfect platform to launch products targeted at mechanized users. Thus Natural presented its 'Furnipack- complete veneer solution for furniture manufacturers.' Products included veneered boards, fleece backed veneers, edge banding rolls, profile wrapping veneers and thicker veneers.
To top this complete solution for furniture manufacturers Natural showcased its ability to offer all its technical refinements in its latest range of smoked and rough cut veneers. Whoa!! Now that is best of both worlds- aesthetically and technically!!
Natural Veneers booth got tremendous response in terms of foot fall and also in resultant after show sales. Now we await a bigger and a better Delhi Wood show!!