Jaipur Exhibition Participation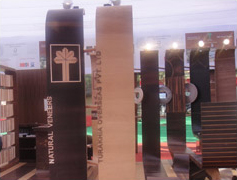 Welcome to the ever expanding world of 'NATURAL VENEERS'- now in Jaipur. Natural Veneers as a brand had always been unrepresented in many major cities like Jaipur. Now we make an effort to make it available to the designing fraternity all over the country.
Launch of 'NATURAL VENEERS' in a city like Jaipur marks the end of non- representation in non-metro cities. With the exhibition we tried to showcase the complete range of our veneers to the best architects and designers of the city. With a strong distributor like Chandalal Kalyanmal we look forward to building a strong community of patrons for the brand.
"I feel Jaipur has a lot of potential. Not only it could serve as a prime base for distribution in Rajasthan, but its proximity to Delhi also helps. Generally companies consider servicing Jaipur through Delhi, but it could be equally good working vice-versa" said Mr. Arpan Turakhia, Director, Sales and Marketing, Natural Veneers.