Launch of Feel Series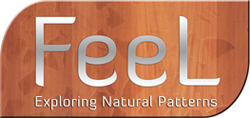 'Natural Veneers' has again come up with wild card in the veneer surfacing industry. This time around it is the 'Feel- Exploring Natural Patterns' series of veneers. With leadership position in smoked and rough category it is probably the right time to add a third dimension to the product category.
"Feel series veneers are different as opposed to the standard textured veneers available in the market. The textured veneers are based on the principle of artificial press plates used by the laminate industry. If you mark the textured veneers till date are promoted majorly by veneer companies having sister laminate companies. But we bring in a fresh approach where we infuse natural patterns onto veneers. Our specialty has always been retaining the natural look in veneers. There is no point in trying to make a natural product look artificial" said Arpan Turakhia, Director Sales and Marketing.
It seemed that 'Natural Veneers' were the latest entrant in the textured veneer market with the "me too" approach but after a closer look we understand that it is a new category all together. The company always believes in being the leader in innovating its product category to the next level.