Red Dot Design Award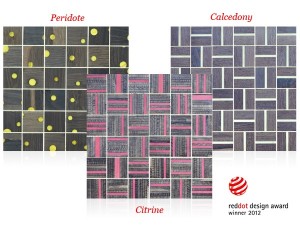 The Gemss enriched wood surfaces are unique wood surfaces that will give an extraordinary and exclusive feel to your space. The flexibility of these surfaces means reduced wastage and keeping the project well within your budget and time constraints.
Gemss gives you innovative possibilities to design your space to truly call it your own. You can achieve it all without spending too much time and create sophisticated surfaces while doing away with the need of traditional craftsmanship.
We are proud recipient of the "Red Dot Design Award for high design quality, expressing innovation in form and function in an exemplary manner," in the year 2012. The award was given for the Gemss – enriched wood surfaces (Curly resin mosaics).
These tiles were developed to recreate the magic of onyx using wood. Polyester resin is combined with solid wood to create a mosaic. Its particular characteristic is that it appears to be backlit if placed on a bright surface. The composite material consists of 6 mm-wide, heat-treated slats made from end-grain wood. Due to their varied grain and the combination with resin, these slats create an unusual surface effect.
The jury quoted:
"An interesting combination of materials together with a sophisticated production process lead to a dramatic aesthetic effect with a wide range of applications."