Rough Cut Veneers
We are the first company to concoct the Rough cut technology and introduce it globally. The unique process makes rough cut veneers a perfect substitute for the sawn lumber paneling.
Also the rough cut veneers are very eco-friendly and cost efficient as well as compared to the sawn lumber. They are aesthetically more pleasant as well. You can attain the sawn lumber aesthetics in an easy and affordable way with Rough Cut Veneers.

Our efforts to make eco friendly veneering solutions that were most aesthetic have lead us to be a proud recipient of the prestigious Interzum Award in the year 2009. In a ceremony that was held in Germany, we were presented with the Interzum: Intelligent Material Design award.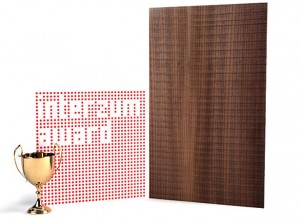 We are very proud to have innovated this technology and give it to world.
You can take a look at the Rough Cut Veneers here.