Vision Towards the Future- Exclusive NATURAL Gallery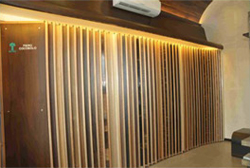 NATURAL VENEERS now with a vision towards establishing presence in retail front moves in with its first exclusive NATURAL product gallery in Jaipur. With a strong partner in 'Chandalal Kalyanmal' the company is positive with its exclusive product gallery concept.
"We are very positive with the concept of exclusive product gallery. In today's time it is imperative for companies to make the right presentation of its product to the designing community. We look forward to establish this kind of set ups in all major cities with our partners" said Arpan Turakhia, Head Marketing & Sales.
The company believes that this move would give them a major dedicated sales set up all over the country in the coming years. We keep our fingers crossed to see if the move works for the leading veneer company of India.