Gemss Radiance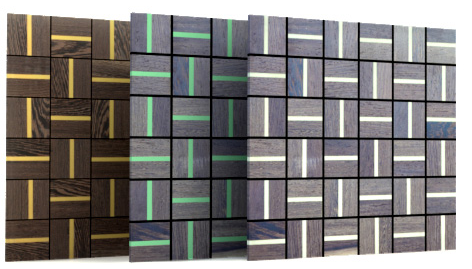 Gemms wood mosaics are revolution in designing your space with wood.  Gemss helps you create elegant surfaces that seem to have created by an expert craftsman. Gemss lends a never before seen aura to space with the most modern and artistic designs.
The designers at Natural Veneers could not keep their calm after coming up with the marvelous series called Gemss. They kept on doing what they do best and as a result of their hardwork, we now present the Gemss Radiance wood mosaics. Gemss Radiance is everything that Gemss is and much more.
Gemss Radiance is a stupendous way to explore your creativity in you space. Gemss Radiance is designed such so that light seems to emanate from your wall. The back lit surfaces are one of a kind wood surfaces that can lend a marvelous aura to your space.
The series comes with a pre-glued back so that you can easily stick it on. No need for complicated processes and spending time with messy glue to stick it on. Just peel off the layer and stick it. The fleece backing ensures that the tiles are flexible so that you can put them on wavy or curvy surfaces without much effort. You can design your space so that it becomes a reflection of who and what you are.
The Gemss Radiance series has been awarded the prestigious Red Dot Design award in 2012 due to its superior quality and feature packed elegance.